911SafeTrack™ S4 Product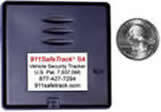 S4 Vehicle Security System is different because you are in charge. S4 follows the instructions that you text from your phone.  S4 alerts you immediately if your car, truck, motorcycle, or RV has an emergency or unauthorized movement.  You call the S4 to connect a 3-way call to the 911-Operator located closest to your vehicle – even if you are thousands of miles away.  You are talking directly to police within seconds of the emergency.  No call center is used – saving you time and money.  LoJack® doesn't do this.  OnStar® doesn't do this.  No other anti-theft system can do this. Also checkout comparison of S4 versus LoJack for Motorcycles
You can check the location of your vehicle anytime by sending a text message to the S4.
The S4 responds with a text showing GPS speed, direction, and location on Google Maps™.
S4 also has starter disable/enable and the ability to unlock the car door that you control with secure text messages.
Why is S4 Different --
No activation fee
No contracts or cancellation fees
911SafeTrack 30 Day Risk Free Guarantee
You may cancel a plan or begin a new plan at any time
Complete security – Your secret PIN gives you complete control
Complete privacy – Location text goes directly to your phone and is never stored or sent using the Internet
Select a 911SafeTrack Service Plan of your choice to begin using your S4. See Service Plan options for low monthly or annual rates.
See Warranty Information covering your 911SafeTrack S4 System for one year from the date of purchase.

Learn More about the 911SafeTrack S4 unit -- Download S4 Brochure
911SafeTrack_HARLEY_Brochure_0416
911SafeTrack_Motorcycle_Brochure_160521
Checkout new smartphone Apps -- S4 Tech-Tips
For the nearest Authorized Dealer, please contact us at 877-427-7294 or info@911SafeTrack.com